Multiple languages (NL, DE, FR, EN)
De boekingswidget is beschikbaar in de talen Nederlands, Engels, Duits en Frans.
Werkwijze
Instellen de taal van de widget (=onlinekalender): Indien u de taal van de widget wilt wijzigen gaat u in de backend bovenin naar 'Instellingen' en klikt u aan de linkerkant op 'Online kalender inbouwen'. Op de pagina die nu verschijnt scrollt u vervolgens naar beneden. U ziet dat hier standaard de weergave van de Nederlandse kalender wordt weergegeven. Aan de rechterkant staat een donkergrijs blokje waar u de taal kunt wijzigen naar het Engels, Frans of Duits. Het is wel belangrijk dat de gegenereerde code opnieuw op uw website wordt geplakt.
Instellen van de taal in de backend: Mocht u de taal in de backend willen aanpassen naar bijvoorbeeld Engels dan kunt u dit doen door in de backend rechtsboven naast 'ne' te klikken op de pijltjes. Hier kunt u de taal van de backend wijzigen naar Engels, Nederlands, Frans of Duits.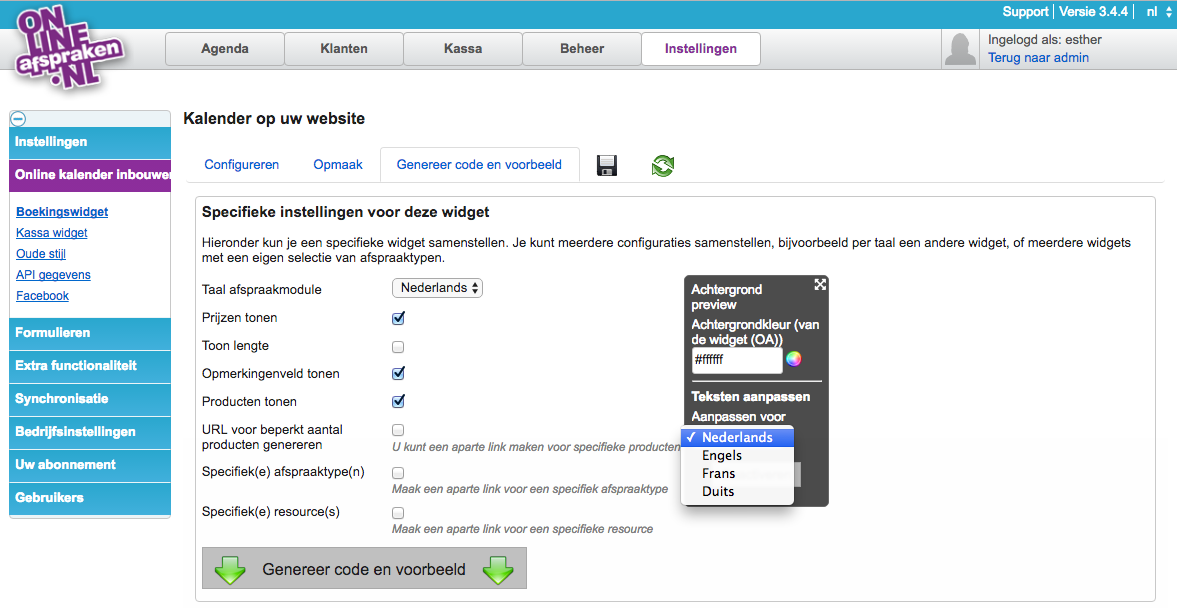 Taal instellen voor berichten: Voor klanten met een gebruikersaccount kunt u instellen in welke taal (Engels, Nederlands, Frans of Duits) de berichten (afspraakbevestiging en eventueel de herinnering) verstuurd moeten worden. Voor het instellen van de taal per klant met gebruikersaccount gaat u naar 'Klanten'. U kunt aan het blauwe poppetje (symbooltje) herkennen of een klant een gebruikersaccount heeft of niet. Klik vervolgens op het bloknootje met het pennetje bij de desbetreffende klant. Onderaan de pagina 'Aanpassen van klant …' staat Taal voor berichten. Deze kunt u aanpassen naar de gewenste taal. (Engels, Nederland, Frans of Duits).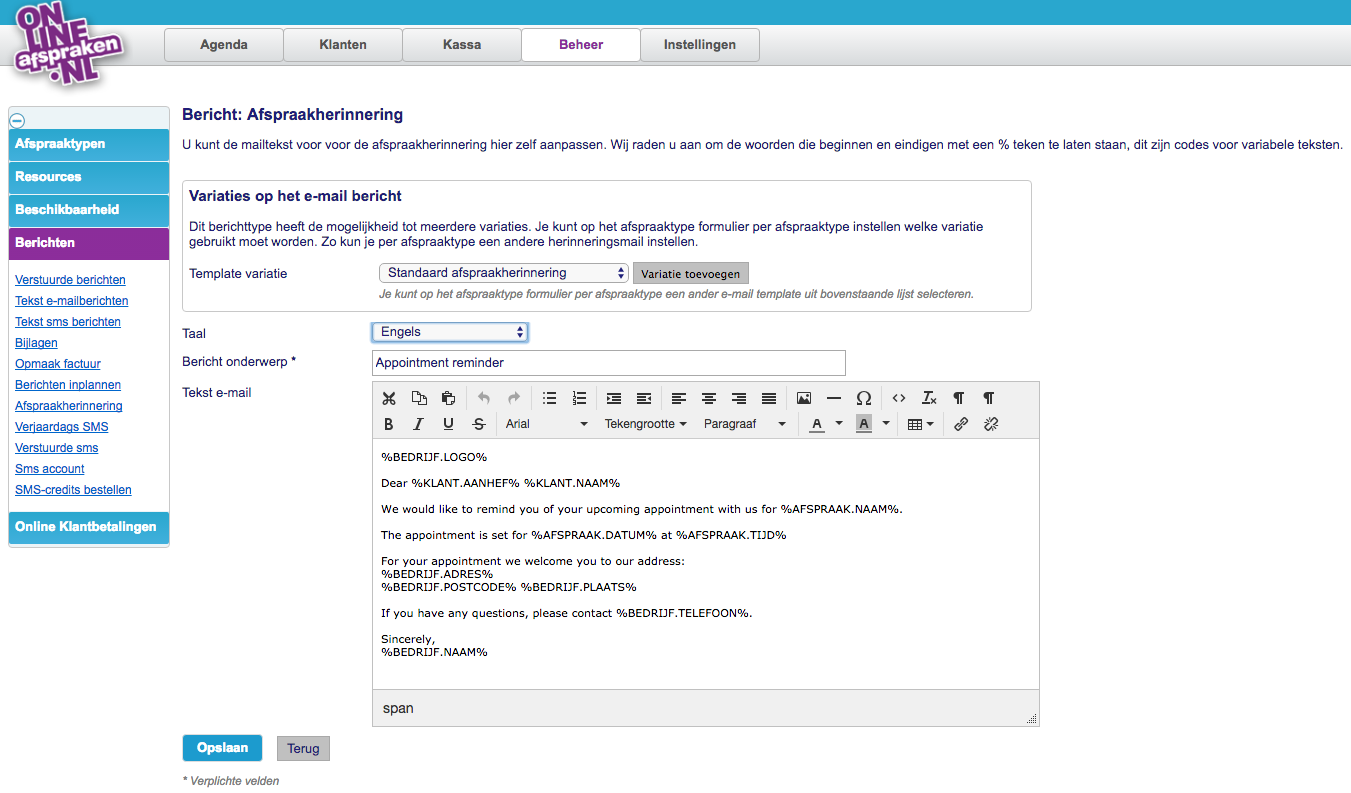 De berichten die verstuurd worden vindt u terug onder Beheer > Berichten > Tekst e-mailberichten. Indien u op het potloodje met het pennetje klikt en u past de Taal aan naar bijvoorbeeld Engels, dan kunt u zien welke tekst er wordt verstuurd. Uiteraard kun u de berichten geheel naar eigen invulling aanpassen.