Customer membership/strip tickets
U kunt verschillende strippenkaarten/klantenabonnementen aanmaken. Hier kunt u o.a. een saldo en geldigheidsduur aan meegeven. Deze abonnementen kunt u aan de gewenste afspraaktypes koppelen. De strippenkaarten kunnen aan individuele personen worden gekoppeld en indien gewenst kunnen ze ook direct online door uw klanten worden aangekocht (iDeal). Zowel uw klanten als u zelf ziet wat het actuele saldo van de strippenkaart is. Daarnaast biedt deze plugin een overzicht per klant en wat zijn activiteiten in deze periode zijn.
Werkwijze
Instellen strippenkaart: Het is belangrijk dat u eerst de plugin voor strippenkaarten activeert. Dit kunt u doen door in de backend te gaan naar Instellingen en vervolgens klikt u aan de linkerkant op 'Extra functionaliteit'. Scroll vervolgens naar beneden en zet een vinkje bij 'Strippenkaart en overzicht activiteiten per klant in bepaalde periode'. U klikt hierna onderaan op 'Opslaan'.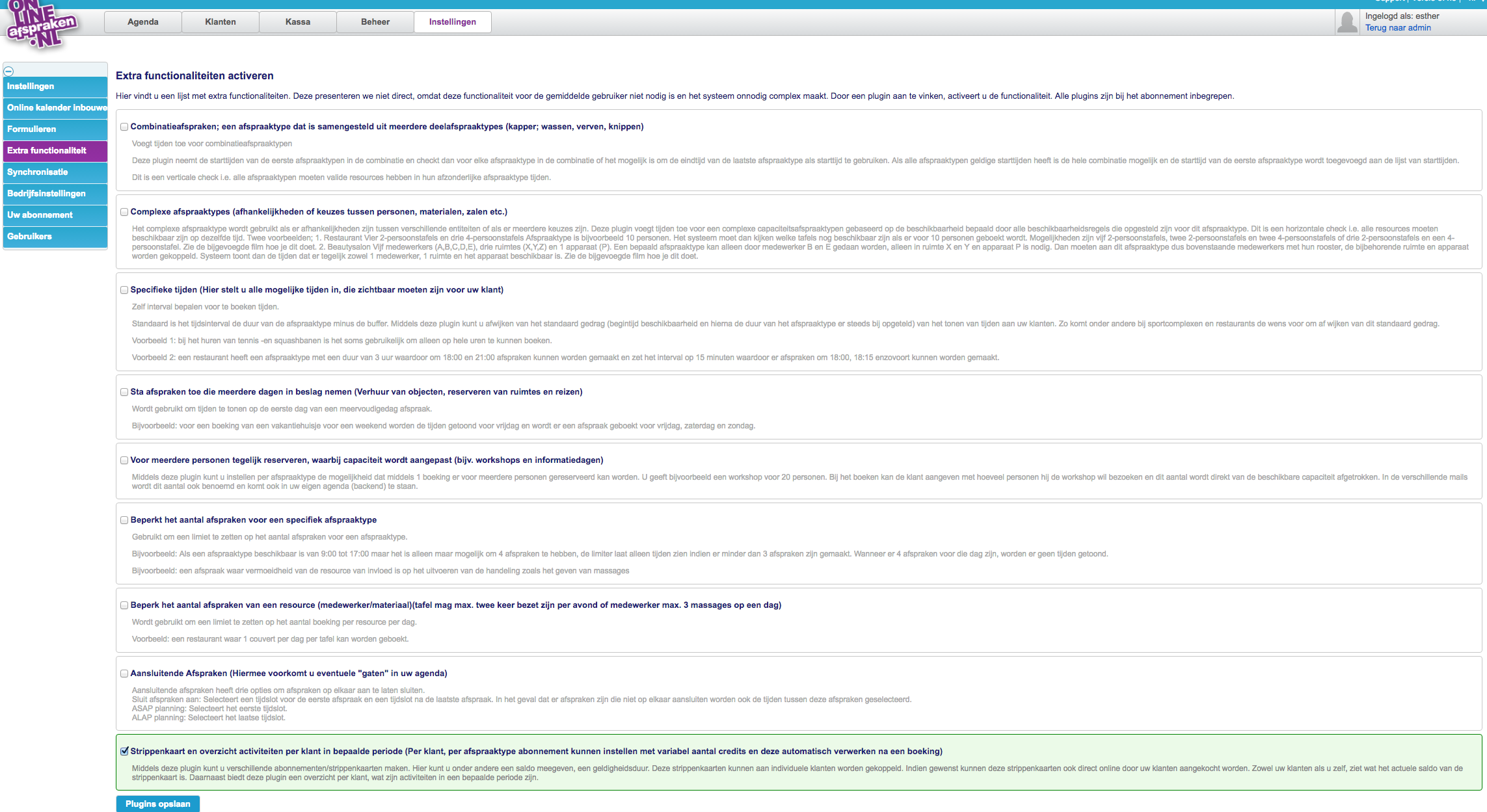 Na het instellen van de plugin gaat u bovenaan naar Beheer en klikt u aan de linkerkant op Klant Abonnementen. Hierna klikt u op 'Nieuw'. Doorloop vervolgens de verschillende tabbladen:
Basis gegevens: Geef je abonnement/strippenkaart een Naam, eventueel een Omschrijving, een start saldo (of onbeperkt) en geef eventueel aan of er een notificatie verstuurd moet worden indien het saldo kleiner is dan bijvoorbeeld 3. Tevens kunt u aangeven naar wie de notificatie gestuurd moet worden.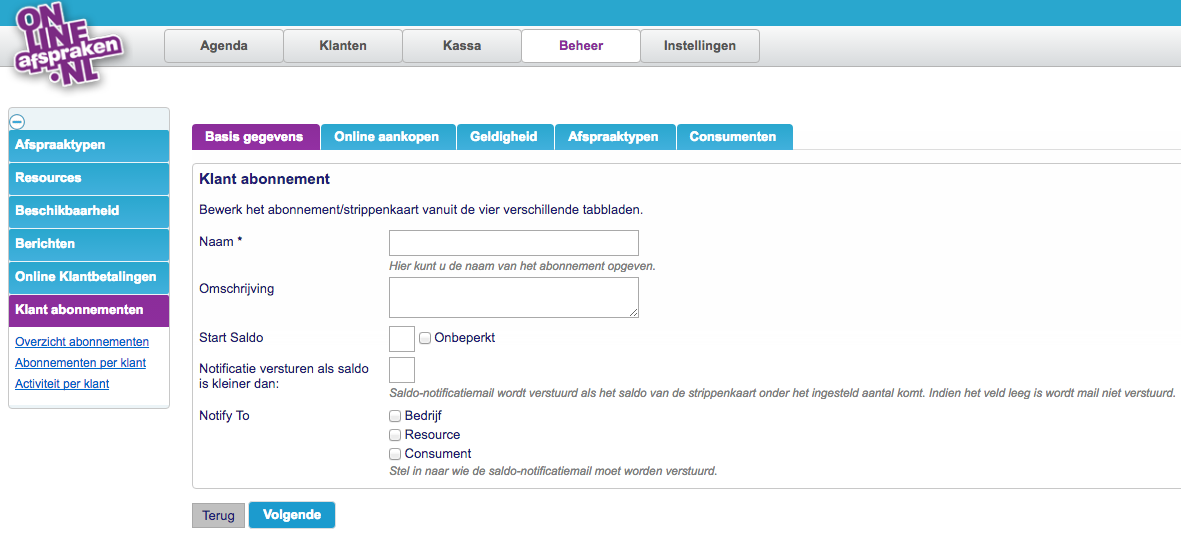 Online aankopen: Hier kun je aangeven of de strippenkaart online kan worden aangekocht middels iDeal. Belangrijk is dan dat uw de betaalmodule activeert door op de button te klikken. Vul vervolgens de gevraagde gegevens in en klik hierna op 'Internet betalingen activeren'. Zodra u de betaalmodule heeft geactiveerd kunt u aanvinken dat de strippenkaart middels iDeal kan worden aangekocht. Geef tevens de verkoopprijs en het BTW percentage aan.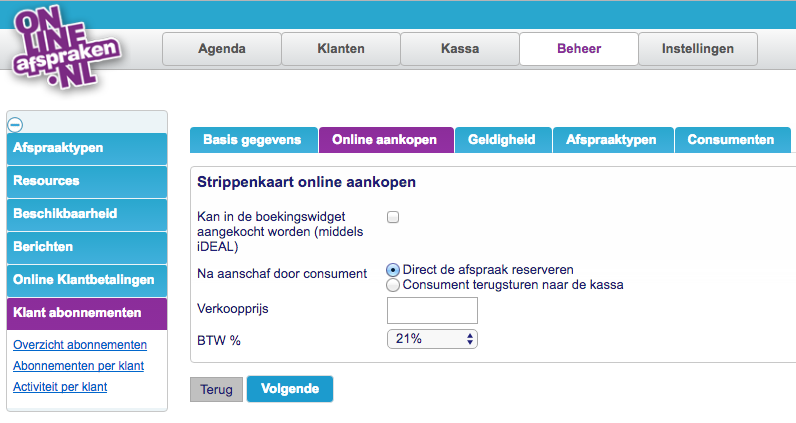 Geldigheid: Bij geldigheid geeft u aan hoe lang de strippenkaart geldig is en wat de ingangsdatum is. Hierbij heeft u de keuze; Vanaf aanschafdatum, aansluitend op strippenkaart, daarna aanschafdatum en u kunt hier aangeven wat de boekbare tijden zijn.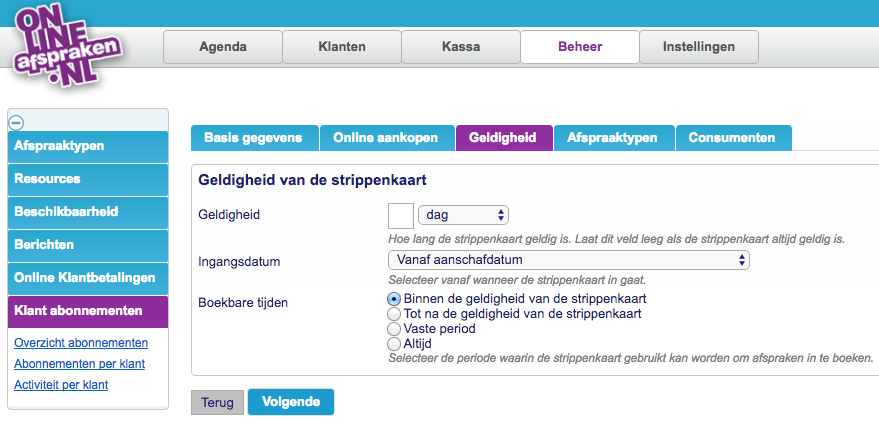 Afspraaktypen: Hier kunt u aangeven welke afspraaktypen met het aangemaakte abonnement kunnen worden geboekt. U kunt hier ook aangeven dat het verplicht of optioneel is om d.m.v. strippenkaart af te rekenen. Dit kan per afspraaktype worden ingesteld.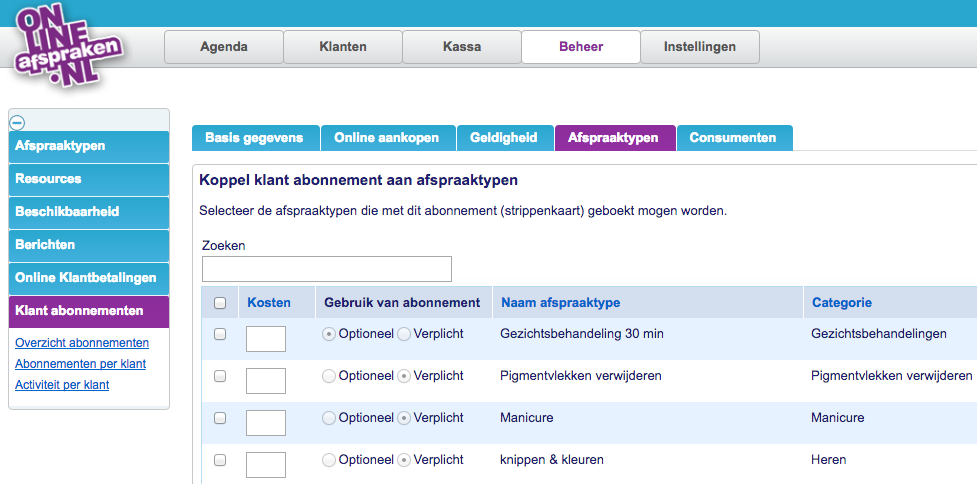 Consumenten: Het is mogelijk om consumenten aan het abonnement te koppelen zodat zij het abonnement mogen gebruiken voor het boeken van hun afspraken. Door een vinkje te plaatsen voor de naam wordt de desbetreffende klant aangevinkt.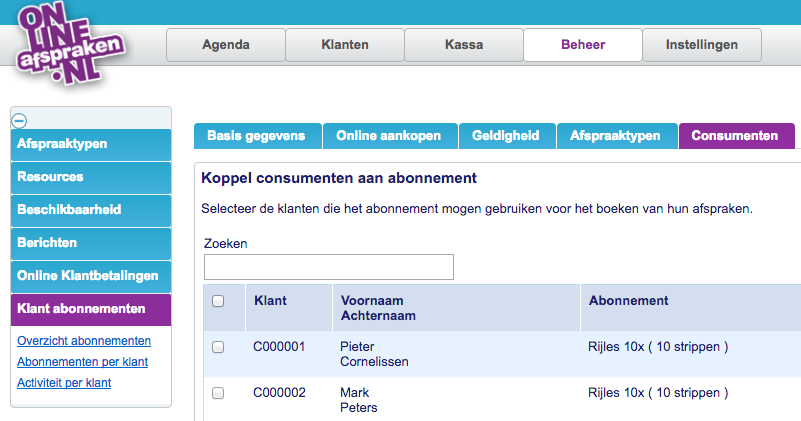 Zodra er klantenabonnementen zijn aangemaakt is het mogelijk om aan de klantenkaart een abonnement toe te voegen, te wijzigen of te deleten. Ook kunt u zien hoeveel strippen de klant nog heeft. Ga naar Klanten, zoek de desbetreffende klant op en klik op de naam (in het blauw) en ga vervolgens naar de tab Abonnementen.