Customer card
Voor elke klant wordt er automatisch een klantenkaart aangemaakt. Indien u instelt dat uw klanten verplicht zijn om een account aan te maken heeft u, maar ook uw klant, tevens inzicht in de historie en de toekomst. U kunt de klantenkaarten gebruiken als CRM systeem. Het is namelijk ook mogelijk om extra velden uit te vragen bij het registreren en notities en bijlagen aan de klantenkaart toe te voegen.
In de klantenkaart van uw klanten vindt u het volgende:
Overzicht: Belangrijke klantgegevens. O.a. contactgegevens. Ook kunt u zelf in het klantregistratieformulier extra velden aanmaken die kunnen worden uitgevraagd. Deze velden komen dan tevens onder Overzicht te staan.
Gebruikersaccount: Hier ziet u wat de gebruikersnaam is van de klant, wanneer voor het laatst is ingelogd en of er in het verleden een wachtwoord is gewijzigd. U kunt eventueel hier het wachtwoord voor de klant aanpassen en de inloggegevens naar de klant sturen. De klant kan dan direct het wachtwoord wijzigen.
Notities: U kunt hier zelf notities en bijlagen toevoegen; denk bijvoorbeeld aan een kleurenkaart, kopie paspoort etc. Uw klanten hebben geen inzicht in de notities.
Afspraken: Hier vindt u de afsprakenhistorie en toekomstige afspraken van de klant.
Abonnementen: Mocht uw klant een abonnement/strippenkaart hebben aangeschaft dan vindt u die hier terug. U kunt het abonnement hier eventueel aanpassen (o.a. inactiveren, saldo verhogen). Ook is het mogelijk om nieuwe abonnementen hier aan de klant toe te voegen.
Berichten: Alle verstuurde berichten vindt u hier terug incl. datum, tijd, type, soort bericht, ontvanger en inhoud bericht.
Aankopen: Hier vindt u een overzicht van de aankopen door uw klant.
Kortingsbonnen: Hier ziet u een overzicht van de kortingsbonnen/kortingskaarten die de klant heeft of heeft gebruikt.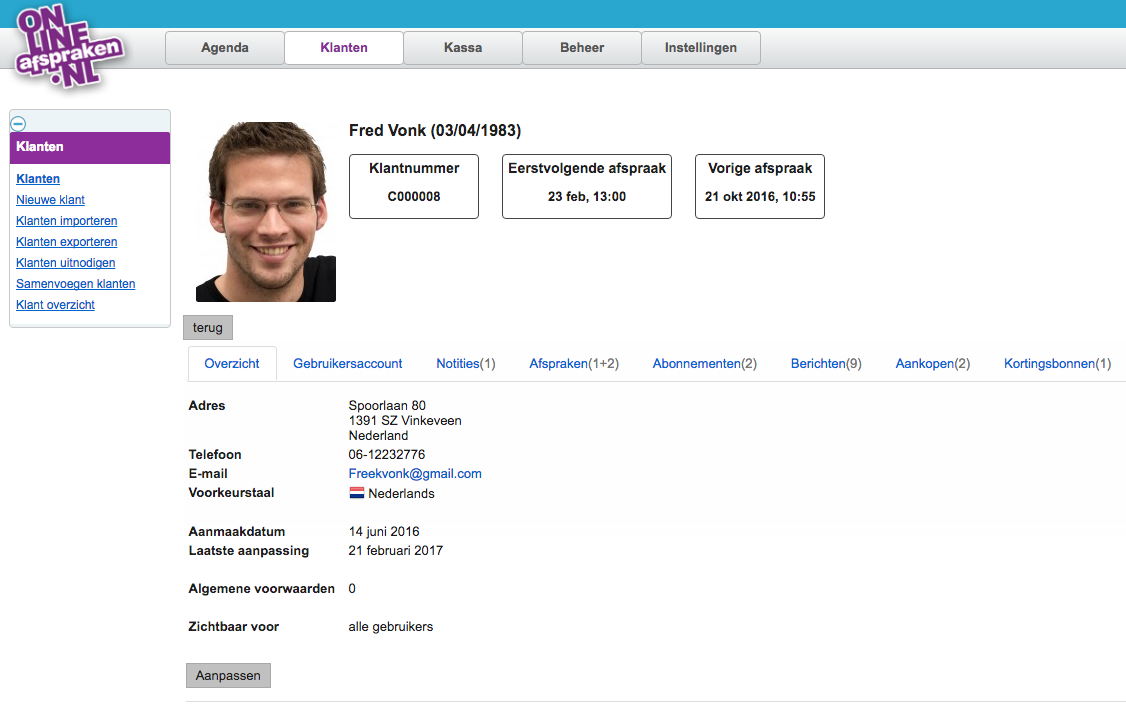 Het is mogelijk om rechten aan uw medewerkers toe te kennen in relatie tot de klantinformatie. Het is bijvoorbeeld mogelijk om in te stellen dat uw collega's alleen hun eigen klanten mogen inzien. Daarnaast is het mogelijk rechten in te stellen m.b.t. het bekijken, aanmaken, aanpassen, verwijderen en exporteren van klanten.