Discount codes
Het is mogelijkheid om kortingscodes aan te maken en te verstrekken aan uw klanten. Belangrijk is wel dat u gebruik maakt van de Kassa module (€ 119,- excl. BTW p/j). U kunt de kortingscodes op allerlei manieren verspreiden aan uw klanten en zij kunnen deze online of op locatie verzilveren.
Werkwijze
In de backend gaat u naar Kassa > Kortingen > Kortingsbonnen en klik vervolgens rechtsbovenin op '+ Korting toevoegen'. Vervolgens geeft u de korting een naam en geef tevens een beschrijving voor de klant aan. Daarna geeft u aan tot wanneer de korting geldig is. Klik hierna op Opslaan.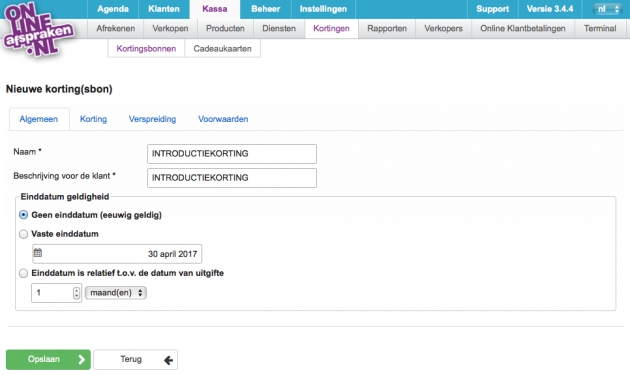 Ga vervolgens naar het tabblad Korting en geef hier aan wat voor type korting het betreft. Mogelijkheden: o.a. vast kortingsbedrag bij minimale besteding, vast kortingspercentage over alle producten of 2 halen 1 betalen. Uiteraard is het ook mogelijk om bepaalde producten uit te sluiten van kortingen. Ook hierna klikt u onderaan op Opslaan.
Vervolgens klikt u op de tab Verspreiding. Hier kunt u eventueel de korting koppelen aan een klant. Deze ontvangt dan een persoonlijke code waar alleen hij gebruik van kan maken. Afhankelijk van de keuze; 'Korting niet gekoppeld aan de klant' of 'Korting is gekoppeld aan een klant' kunt u de code type aangeven en vervolgens kunt u aanvinken of deze korting wel of niet meerdere keren gebruikt mag worden. Klik daarna op Opslaan.
Klik daarna op het tabblad Voorwaarden. Hier kunt u de voorwaarden weergeven voor het gebruik van de korting en eventueel de Url. Klik hierna op opslaan.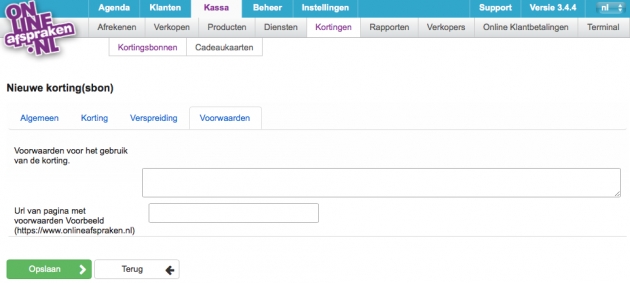 Zodra de kortingscode is aangemaakt wordt in sommige gevallen de kortingscode automatisch aan de kassa toegevoegd en in andere gevallen kun je de code zelf toevoegen. Geheel afhankelijk van uw instelling.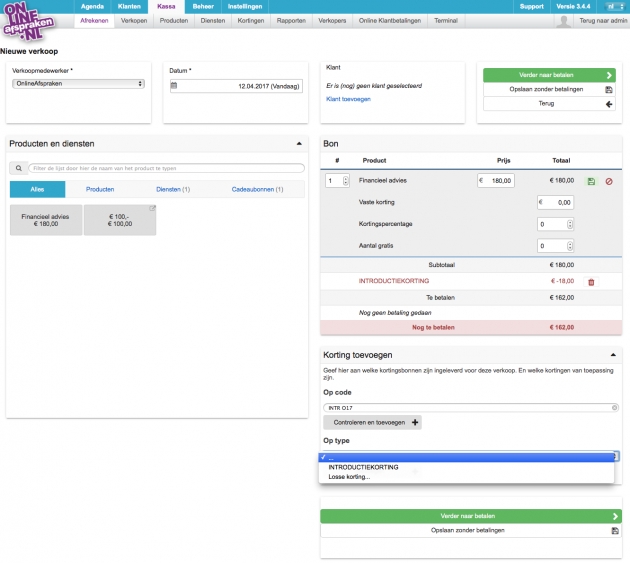 Uw klanten kunnen tevens bij hun online aankopen de kortingscode toevoegen.